Dear Valued Client

Please note that we are currently experiencing challenges with our telephone systems and are thus not contactable via land line.
Please contact us on our INFO email address on: info@constitutionhill.org.za. 
For emergencies please note the contacts below;
-          Visitor Services (tours): Nolu 081 544 4087
-          Venue Hire: Maggie 061 464 6885
-          Media and Marketing: Jeanny 065 982 4082
-          Finance and SCM: Siya 061 464 3729
-          Facilities: Pat 061 461 6354
We apologise in advance for any inconvenience this may cause and assure that the matter is being attended to urgently.
About Constitution Hill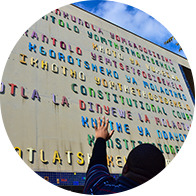 Constitution Hill is a living museum that tells the story of South Africa's journey to democracy. The site is a former prison and military fort that bears testament to South Africa's turbulent past and, today, is home to the country's Constitutional Court, which endorses the rights of all citizens.

There is perhaps no other site of incarceration in South Africa that imprisoned the sheer number of world-renowned men and women as those held within the walls of Constitution Hill's Old Fort, Women's Jail and Number Four. Nelson Mandela. Mahatma Gandhi. Joe Slovo. Albertina Sisulu. Winnie Madikizela-Mandela. Fatima Meer. They all served time here. But the precinct also confined tens of thousands of ordinary people during its 100-year history: men and women of all races, creeds, ages and political agendas; children too; the everyman and the elite. In this way, the history of every South African lives here.

Read more
Constitution Hill Timeline