Constitution Hill is open for tours
Learn more about the changes we have made with your health and safety in mind.
On Saturday 29 October 2022, Constitution Hill will be closed to the public from 12:00pm as the Basha Uhuru Freedom Festival commences at this time and only festival goers will be allowed on site. Tour times for Saturday will be: 9:00, 10:00, 11:00.
About Constitution Hill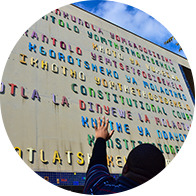 There is perhaps no other site of incarceration in South Africa that imprisoned the sheer number of world-renowned men and women as those held within the walls of Constitution Hill's Old Fort, Women's Jail and Number Four. Nelson Mandela. Mahatma Gandhi. Joe Slovo. Albertina Sisulu. Winnie Madikizela-Mandela. Fatima Meer. They all served time here, but the precinct also confined tens of thousands of ordinary people during its 100-year history. They were men and women of all races, creeds, ages and political agendas; children too, the everyman and the elite. In this way, the history of every South African lives here.
Constitution Hill is a living museum that tells the story of South Africa's journey to democracy. The site is a former prison and military fort that bears testament to South Africa's turbulent past and, today, is home to the country's Constitutional Court, which endorses the rights of all citizens.
Read more
Constitution Hill Timeline