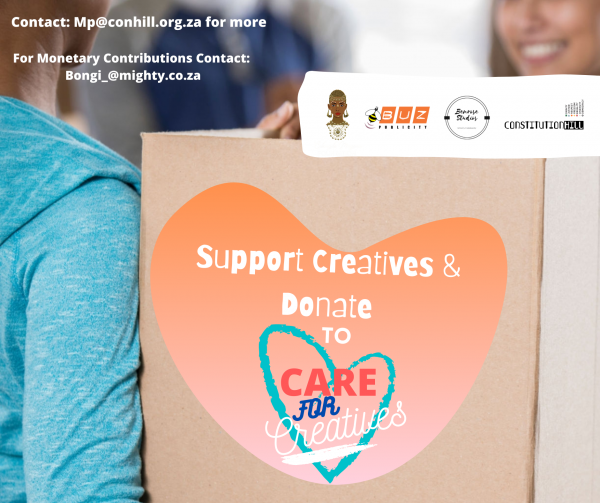 A cry for help on the Im4theArts page from a female creative asking for sanitary products sparked the need to find a way to help creatives with basic hygiene products and with that in January the #care4creatives campaign was created.
Says founder and President of Im4theArts Sibongile Mngoma "When a female creative asked for help to get sanitary pads on the Im4TheArts group it was clear that we all needed to come together and pool all our resources to help ease some of the pressure creatives are feeling".
The creative sector has been devastated by the impact of Covid19 with many creatives finding themselves in dire situations, with many not having earned since lockdown started and little or no relief to the industry.
Across the sector from musicians to visual artists, crafters, graphic designers to photographers, performance artists, administrators and poets there is little or no way to create an income.
According to an early assessment done by The South African Cultural Observatory of South Africa titles 'An Early Assessment of The Impact of The Covid-19 Crisis on The Cultural and Creative Industries in South Africa' the impact has been immediate and quite severe.
Key findings included:
Only 12% of respondents believed that they could continue with 50% or more of their work with the main reason being the lack of face-t-face work that could be done,
40% of respondents were now using their reserves to survive, with 21% stating that they are relying on friends and family,
Only 25% of respondents believed they would qualify for the support offered by government largely due to the fact that their businesses have remained informal.
(https://www.southafricanculturalobservatory.org.za/download/485)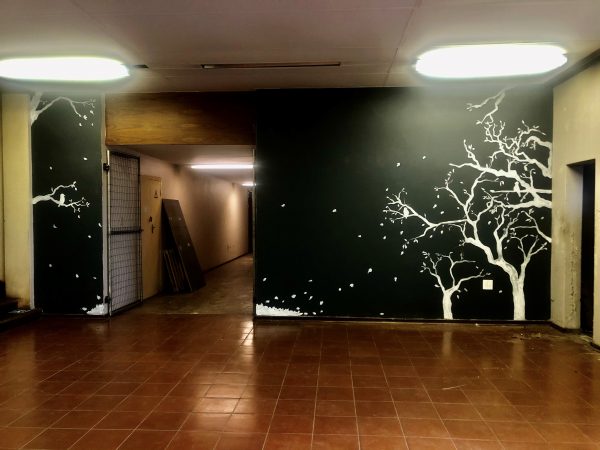 The #Care4Creatives grew out of this need to help creatives with things many people take for granted – daily hygiene products hence a partnership between Sibongile Mngoma Foundation, Constitution Hill: Creative Uprising, BUZ Publicity and Benrose Studios began.
"The ongoing impact of Covid-19 on our creative community is dire – leading to a loss of hope alongside a desperation for support. Although a simple campaign, the intention is to do what we can and show that we care. Core to this campaign is upholding the dignity of those in need – whether you are donating or receiving we ask you to contribute words of hope to creatives on our WALL OF HOPE mural which is at the drop off and collection point at Transwerke Studios, Constitution Hill. This campaign is simple – drop off essentials at Transwerke Studios, Constitution Hill and we will create packs for creatives to collect. This can include soap, toothpaste, deodorants, sanitary towels, shampoo basic items that are needed for personal hygiene is all we are asking for- Says Mariapaola McGurk of Constitution Hill.
'Running a creative hub in the City of Johannesburg we have seen the impact of Covid on our community. Exhibitions are not possible like they used to be; walk abouts are quieter; art fairs are no longer happening. Our community is finding it harder and harder to access markets to sell to. This campaign is about both coming together to support and offer essentials to those in need.' Zanele Mashinini, Project Manager at Benrose Studios.
We call on corporates, organisations and individuals to contribute to this campaign which intends lessening the burden on creatives through simple acts of kindness and gestures of giving.
"As an SMME in the creative industries, we have seen the damage that COVID has done to an industry that was already vulnerable before the virus. It has affected companies, individuals and organisations right across the sector. It has been a blow to each and every one of us, both ourselves and colleagues have not been able to work. Creatives have been assisting each other in the most phenomenal ways and we ask that if you have ever been moved by music, a painting, a piece of art, a ballet, a theatre piece, a poem, or a concert then a creative has moved you and now is the time to pay it forward and help an industry that has brought you joy. Let us help creatives have dignity." Says Bridget van Oerle of BUZ Publicity.
In these uncertain times we all need to do everything we can to help all within our communities. This is a simple project which could really help many creatives who have no income through this difficult period.
The Transwerke Studio is at Constitution Hill cnr Joubert and Sam Hancock Streets in Hillbrow.
For more information
Contact: mp@conhill.org.za
Contact: bongi_@mighty.co.za for monetary contributions.
Poster(s) and Photo cred: Amacreativesafrica
Socials- Facebook: https://www.facebook.com/AmaCreative.co.za | Twitter: https://twitter.com/amacreatives
Instagram: https://www.instagram.com/amacreativesafrica/
Email- zac@amacreatives.com