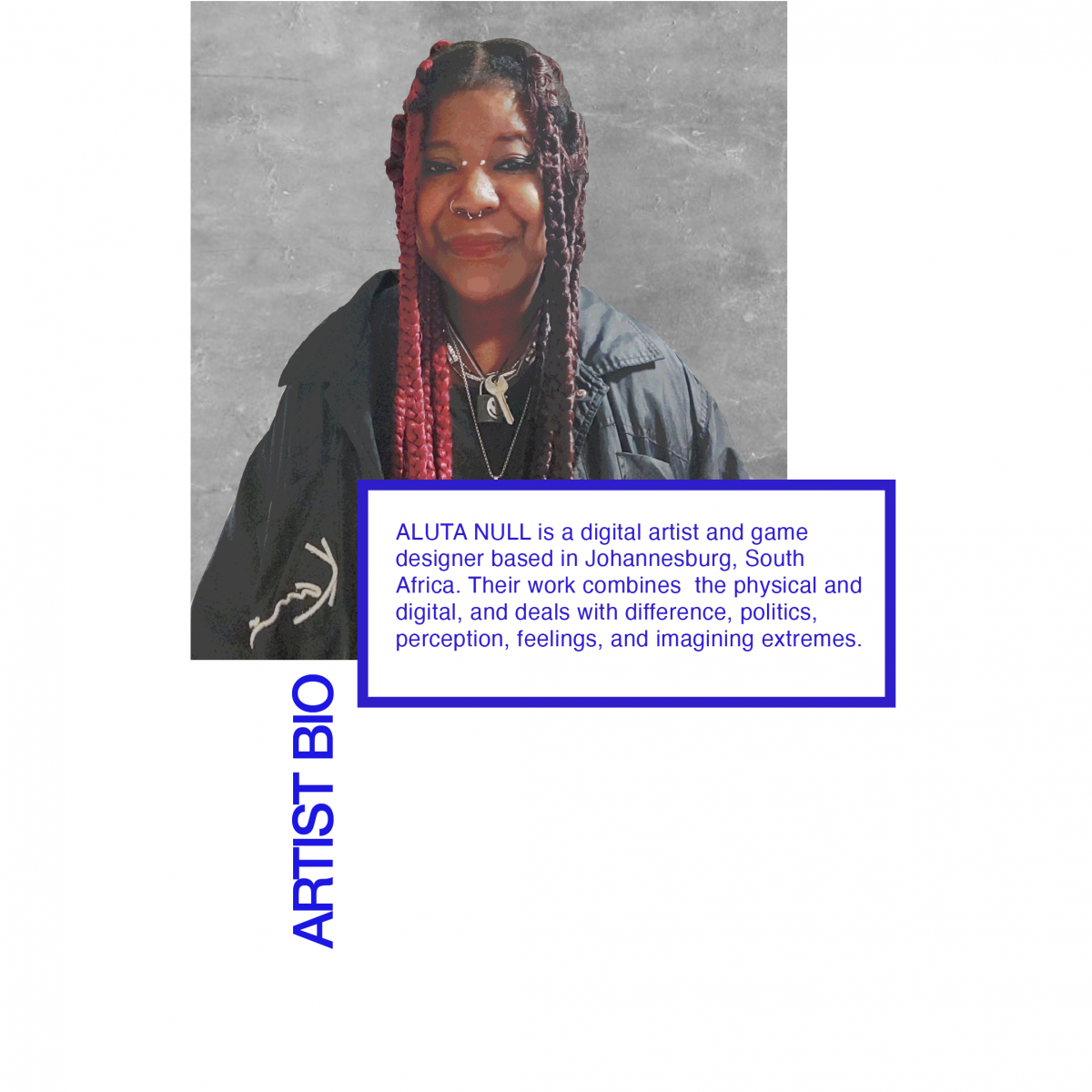 Bubblegum Gallery is proud to present, PHANTOM, a solo exhibition by ALUTA NULL beginning with the experiential articulation of mental health disintegration and the affective textures of states of neuro divergency, of things unseen but always present.
One of the things I call myself is a serial experimenter, even with this solo exhibition, a lot of the things I'm trying are things I've never done before. Or rather, I've tried them but just not in the ways I'm working with them here. I'm constantly just playing, there's no other word I can use to describe my process.
I guess that might also come from my background as a Game Designer and the need to constantly think about what play means not just for the person playing a game, but also what play means where the interaction between the player and Game Designer is concerned — and these interactions also being a space of 'playing around'.
ALUTA NULL, 2021
Virtual reality and Augmented reality in the same light as Science Fiction — with world building potential. As spaces fabulated with our imaginations and through our experiences that tear the facts of the world(s) we know asunder — its systems, structures, histories, and politics — reimagining them anew and stretching the constraints of our enfleshment. Past race, gender, class, and physiological capabilities. This is the intention and impulse that gives creative and conceptual texture to ALUTA NULL'S practice, work, and the worlds they fabulate with them.
"It's a process of being curious and imagining, the cool thing about the digital space is that you can pretty much create whatever you want to create. Pretty much anything I can think of right now, I could go to my laptop and create, which makes it a really powerful space."
PHANTOM's artistic enunciation is rooted in the experiential exploration of mental health disintegration and affective manifestations of neuro-divergency — with the digital and physical elements of the exhibition existing both in relation to, and opposition to each other as manifestations of changing mental states.
The exhibition's title, PHANTOM, is used in reference to non-tangible and non-visible constructs and realities, specifically those relating to mental health issues and things concerning our minds. I found it an interesting word to use — in the context of mental health and the context of what I am trying to evoke experientially through this work — because ultimately perception and perspective are important when it comes to this conversation. The word felt like it represented a lot of what I personally feel when struggling with my mental health, which is a feeling of being quite passive in life and a sensation of feeling like you're floating through it.
What NULL's work also does through PHANTOM, is fabricate speculative spaces to be in experiential consideration/meditation with mental health disintegration as a type of haunting or state of being haunted. "Of showing those other layers of being and perception and communicating experiences of things 'invisible'.
Exhibition information:
Where: Bubblegum Gallery
Address: Sam Hancock St, Johannesburg, 200
Time: 11:00 - 15:00 When: Saturday, October 9th, 2021
To book a viewing please email: zahra@bubblegumclub.co.za COVID-19 protocol will be in place.