Today in South Africa there are discussions by the younger generation to how the social issues of our history still affect our country post-apartheid. This proposed exhibition speaks to the idea of being aware of the physiological conditioning by our past. The aim of this exhibition is to understand the problem and get to the root of the tree, instead of merely trimming the branches. However, it is not that simple as this issue is a sensitive one and it would take seriousness and awareness to get to the depth of it and resolve it in a manner that encourages social cohesion. This exhibition also encourages young people to be conscious of the past and know the country's history and heritage.
Curatorial statement
In this exhibition, the artist questions the meaning of freedom. Throughout history, human beings have fought for liberation, and in South Africa, people of colour who were oppressed from the onset of colonialism fought against the apartheid regime. Those born in 1994 were called the 'born frees', the year South Africa officially held its first democratic elections as part of the country's transformation into a constitutional democracy. Ndimande, a 'born-free', grapples with the idea that the youth have been released from the shackles of the past. He also highlights current-day issues of rampant corruption and the lack of accountability from the leaders who brought along this very freedom.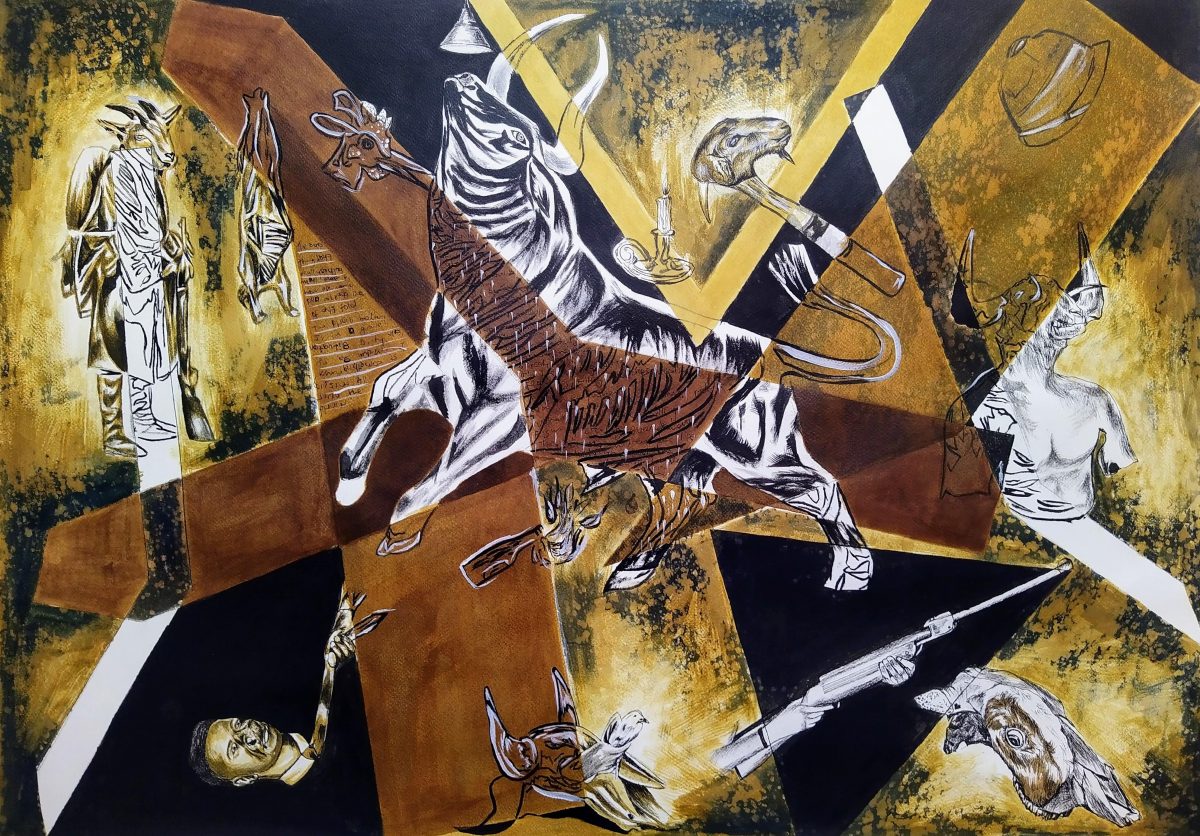 In this body of work dating from 2017 to 2022, the exhibition responds to pertinent socio-political issues, including violence, racial tensions, ongoing oppression, and the lack of change in the new South Africa. Ndimande's father was imprisoned during apartheid in the notorious Number Four prison section, established in 1902 to house Black male prisoners as part of the Old Fort prison, formerly the Johannesburg Jail, that had been in operation since 1893.
This exhibition, titled Freedom, and Responsibility is in a group cell of the old Number Four prison, part of the living museum site Constitution Hill. The artist thus exhibits his work where his father was incarcerated. In addition, three drawings he donated to the Constitutional Court Art Collection (CCAC) in 2020, thereby becoming the youngest artist represented in the CCAC, are currently on view in the public gallery of the Constitutional Court. The drawings are installed facing Number Four and enter conversation with the themes and locality of the exhibition. This prison remains a deeply symbolic reminder of the ills of the apartheid regime and the extent to which it can harm a family unit. At the same time, the Constitutional Court stands as a continuous promise to address South Africa's troubled past and its ongoing consequences.
Artist bio
Richard 'Specs' Ndimande (b. 1994) studied at the University of Johannesburg, where he obtained a Degree in Fine Arts in 2017. His practice includes sculpture, drawing, painting, photography and mixed media. His artworks speak to social ills committed in South Africa and worldwide. He currently works and lives in Johannesburg.
For more info about Specs' work in the Constitutional Court Art Collection, see: https://ccac.concourttrust.org.za/news/2020/press-release-richard-specs-ndimande
Join us for the Walkabout on 2 July 2022 at 11:30 – RSVP: https://www.eventbrite.co.uk/e/375117696127