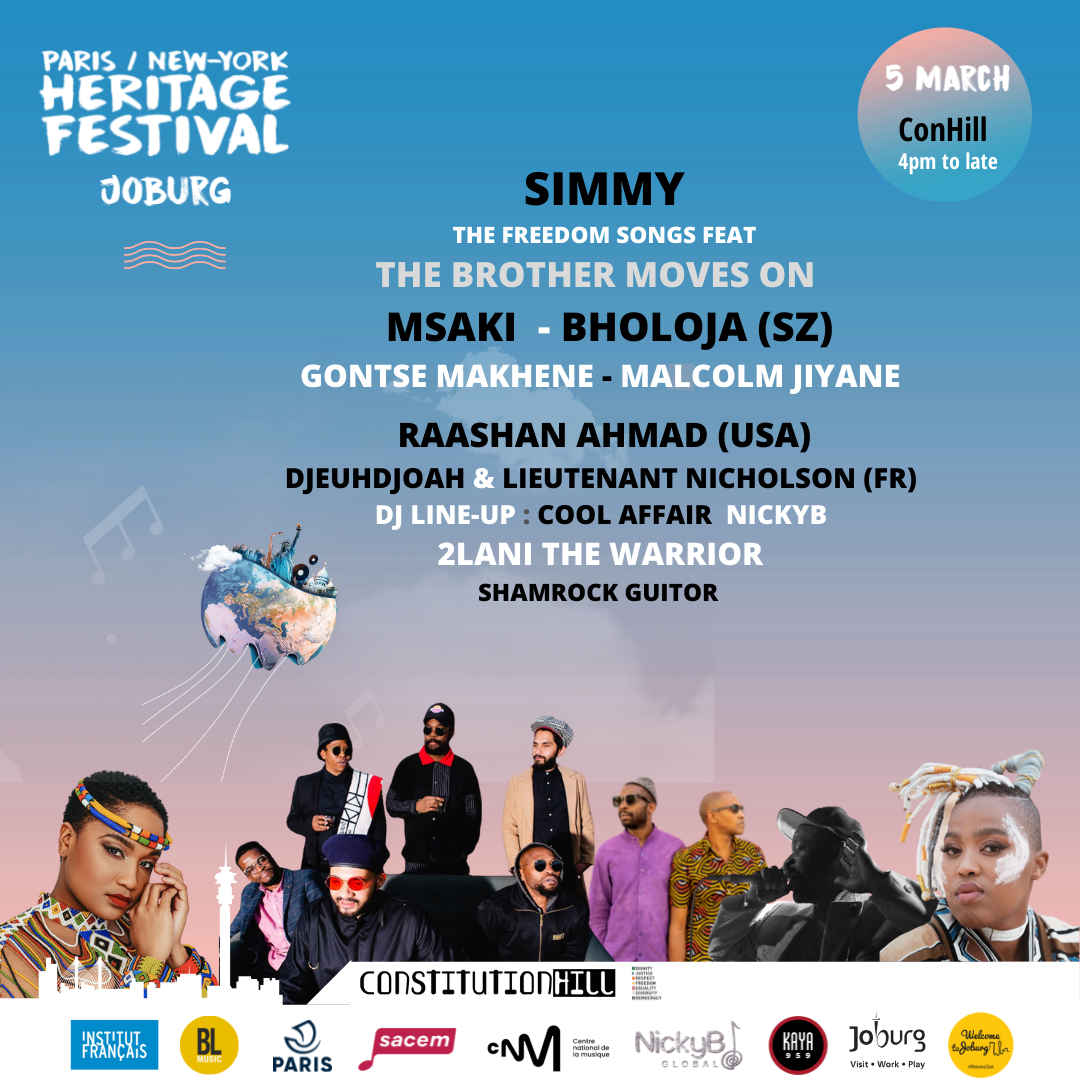 From Paris to New York, Montréal to Vancouver, Johannesburg to Los Angeles, the Paris New York Heritage Festival is an international festival, a journey to the heart of Africa and the African Diaspora's art and music, and it will soon be landing in Joburg for the second time.
The cultural expressions of African and diasporic communities share a common foundation… a fight for the recognition of their Humanity, and the importance of acknowledging their role in its history. In 2022, the festival explores Humanity's future under the theme of Human[U]nity: after the global pandemic hit during the peak of climate discussions all around the globe, Humanity must now figure out how to survive, together, as one! www.pnyhfestival.com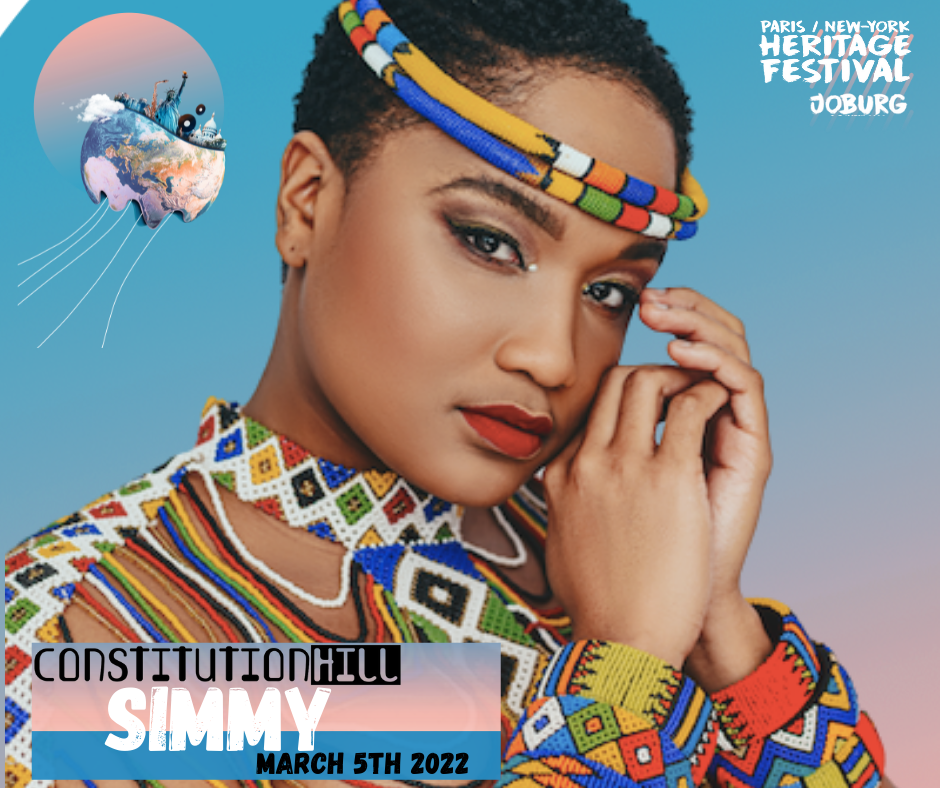 Concerts, Collaborations and Local Market! (05 March 2022 - 4pm to 12pm)
A unique line-up, featuring acclaimed artists from the USA, France and Southern Africa coming together for the first time on stage:
New Artist announced:

Simmy is a South African singer-songwriter with a huge following. She gained prominence in 2018, after signing a record deal with EL World Music and working closely with Sun-El Musician. Her hard-hitting songs touch on modern issues and more personal narratives speaking to life and love in the digital age. Simmy is a powerful and evocative vocalist and undoubtedly one of South Africa's shining stars!

A Powerful Collaboration, A unique Creation: Musical History in The Making
The Brother Moves On (SA) "Freedom Songs Project'' Feat.
Msaki (SA), Gontse Makhene (SA) , Malcolm Jiyane (SA), Bholoja (SZ), students from the 'Morris Isaacson Centre for Music'...
It will also be the first appearance of acclaimed MC & hip-hop artist Raashan Ahmad (USA) in South Africa. Raashan is a soulful, conscious wordsmith and performer, and has worked with Blackalicious, Jurassic 5, (The Roots), Aloe Blacc, Nicola Conte and more…
Djeuhdjoah and Lieutenant Nicholson (FR) with Cool Affair (SA)
DJ Line-up: NickyB (Kaya959), 2lani the Warrior, Shamrock Guitor…
Locrate Market - Soweto's famous market will present 15 stalls with delicious food and local arts and crafts for a day of fun and culture ( https://locrate.co.za/ )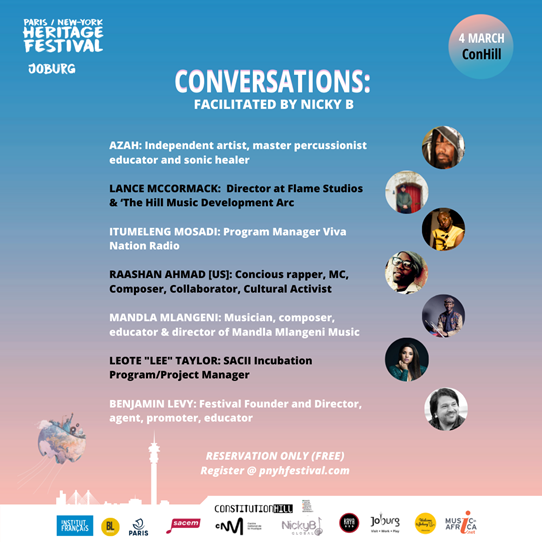 Conversations and discussions (04 March 2022)
"We have now, more-than-ever, the responsibility to build today for a better tomorrow!"
A series of conversations and exchanges exploring the theme of Human[U]nity. Open to the public and facilitated by Nicky Blumenfeld (Kaya959), guest speakers will include Benjamin Levy (Festival Director, promoter, educator), Azah (master percussionist and music therapist), Lance McCormick, (current director at Flame Studios), Itu (from Viva Nation Radio), Raashan (international DJ, rapper, composer, and collaborator) and Mandla Mlangeni (independent artist, audio visual and events management, educator, and director of Mandla Mlangeni Music):
Lance McCormack - Music executive, former Director at Bassline, current Director at Flame Studios
Topic: "Flame Studios - it's vision, purpose and role in establishing the 'The Hill Music Development Arc"
Lance McCormack is a South African music industry 'veteran' who manages Flame Studios at Constitution Hill. The Flame Studios recording hub is a world-class facility built into the ramparts of the historic Old Fort. Named after the Flame of Democracy that burns permanently outside the Constitutional Court, Flame Studios has become a home for musicians and creatives who are actively re-shaping the narrative of contemporary South African music.
Azah - Independent artist, master percussionist and sonic healer
Topic: 'The Sacred Role and Significance of the Drum in Communities'
Tinyiko Mpho Mphago wa Mabasa, professionally known as Azah is a multi-instrumentalist, composer, producer, musical director, cultural activist, educator, and philanthropist from SA's Jazz capital Mamelodi. Known as one of the finest South African percussionists of our generation, he was born into a family of traditional healers and began playing drums at the age of 8, and from a young age he worked as part of Dr Philip Tabane's famous band, Molombo. Azah has researched, studied, and practiced the drums and percussion as a medium of healing and as a way of artistic and spiritual expression.
Itumeleng Mosadi - Viva Nation Radio Station Manager
Topic: 'The importance of creating relevant and quality content for online presentation and digital spaces, and its impact for music practitioners'
Itumeleng Mosadi, also known as Shotgunflava or Mr Gun in music Circles, is a qualified Sound Engineer and Journalist as well as a versatile and passionate musician. He started working in the music industry in 2008 under an independent record label as a Sound Engineer and A&R assistant, and was signed to one of the biggest independent record labels (Mabala Noise) Itumeleng currently work as a Radio Station Manager for a cutting edge Online radio station (Viva Nation Radio) and has vast experience as a music compiler having compiled music for in house retail radio stations such as Pick n Pay, Makro and Airports Radio as well as compiling mood music playlists for various corporate clients.
Mandla Mlangeni - Independent artist, audio visual and events management, educator, and director of Mandla Mlangeni Music
Topic: 'Activating spaces and connecting community through the arts and education'
Mandla Mlangeni is a Johannesburg-based trumpeter, composer, and bandleader. A prolific and talented player, Mandla is a member of the SAMA-nominated group Amandla Freedom Ensemble and has toured extensively as a member of the Cape Town Opera. His musical production 'Oratorio for A Forgotten Youth' was premiered by the Artscape Opera House, and he also leads the highly active 'Tune Recreation Committee', a group which he founded to teach music workshops and provide healing to disenfranchised communities. In 2020, Mandla received a OneBeat Accelerator grant for his project 'Afrikan Freedom Principle', an online platform for a wide community of musicians and arts practitioners to share insights on current developments in the industry, including a podcast, panel discussions, archives, and workshops on everything from music theory to marketing to performance to preservation.
Benjamin Levy - Founder and Director of Paris New York Heritage Festival, agent, promoter, educator
Topic: 'New Models and Initiatives for the Music Industry and Artist Development, both locally and Internationally'
After over twenty years of promoting various artists including George Clinton, James Brown, Boosty Collins, and many more; Benjamin Levy created the Paris New York Heritage Festival. Benjamin wanted to pay homage to the music and culture of the African Diaspora, to which the music of today's world, as well as his career, owe their roots. In 2016, the PNYH festival was born as a tribute to this heritage. "I hope the festival opens the doorway for viewers to create their own point of view on this topic. Think of the event like an internet network- we hope to increase awareness about the theme and encourage all to form their own opinions. Everyone is welcome at this event; you may like, dislike, agree, disagree... but hopefully you will leave with your answer... or perhaps even more questions on this theme. Normally at a festival you eat, you drink, you consume! Think of this as another way to consume, it's a sharing of cultures in a way a "typical" festival does not provide. Through conversation, deep questions, music, film, and company we will engage with the material, and all leave different than before the festival began". - B.Levy
6. Raashan - International DJ, rapper, composer, and collaborator
Topic: 'The Hidden Healing Power of Music in Communities'
Raashan Ahmad (USA) is a DJ, rapper and collaborator that crosses borders and boundaries by fusing elements of hip hop, soul, jazz, world music, funk, and different artistic mediums. Considered one of the most "evolving, exciting and collaborative vocalists" of today, he has already toured across North America, Europe, Japan, and Australia, and has done collaborations with Wax Tailor, Blackalicious, Jurassic 5, Aloe Blacc, Keziah Jones, Stro Elliot (The Roots), Fred Wesley (The J. B's) and Nicola Conte amongst others.
7. Leote "Lee" Taylor - SACII Incubation Program/Project Manager
Topic: "#normalisingaccess" - Creating innovative, sustainable business development and initiatives for arts, culture, and heritage SMME's
Durban born Leote is a multi-skilled, talented creative and serial entrepreneur. She is experienced in incubation programme design and management and an expert in creative SMME's development. She project manages and oversees all the SA Creative Industries Incubator's incubation programmes. She is devoted to ensuring that Creatives from all walks of life have access to the Creative Economy.
Lee is also a seasoned vocalist and songwriter with a degree in Musical Theatre from the Tshwane University of Technology. She has her own production company that does artist development, and the founder of an annual event called the Ultimate Fashion Exchange
Facilitator: Nicky B - DJ, Radio Host of The World Show - Kaya959
NickyB is a well-respected and highly experienced South African DJ and music specialist. She is also a producer, compiler, writer, educator and for the past 24 years, has been the producer presenter of The World Show on Johannesburg-based radio station KayaFM 95.9. NickyB began The World Show in 1997, when Kaya FM was launched as the first black-owned, independent radio station in the newly democratic South Africa. Informative, and largely pan-African, hers is a musical journey that travels across continents and timelines. With in-depth interviews and features, it's a very well-established show with a loyal listenership.
Register for the Conversations via this Google Form: https://docs.google.com/forms/d/1mzIiCSI9DE7Rr_W_MK0PmHU0b5fMe8eurGIG5g2Fe2E/edit
PNYH will partner with IFAS, Kaya959, SACEM, Paris City, Institut Francais, Joburg Tourism, Constitution Hill, CNM.