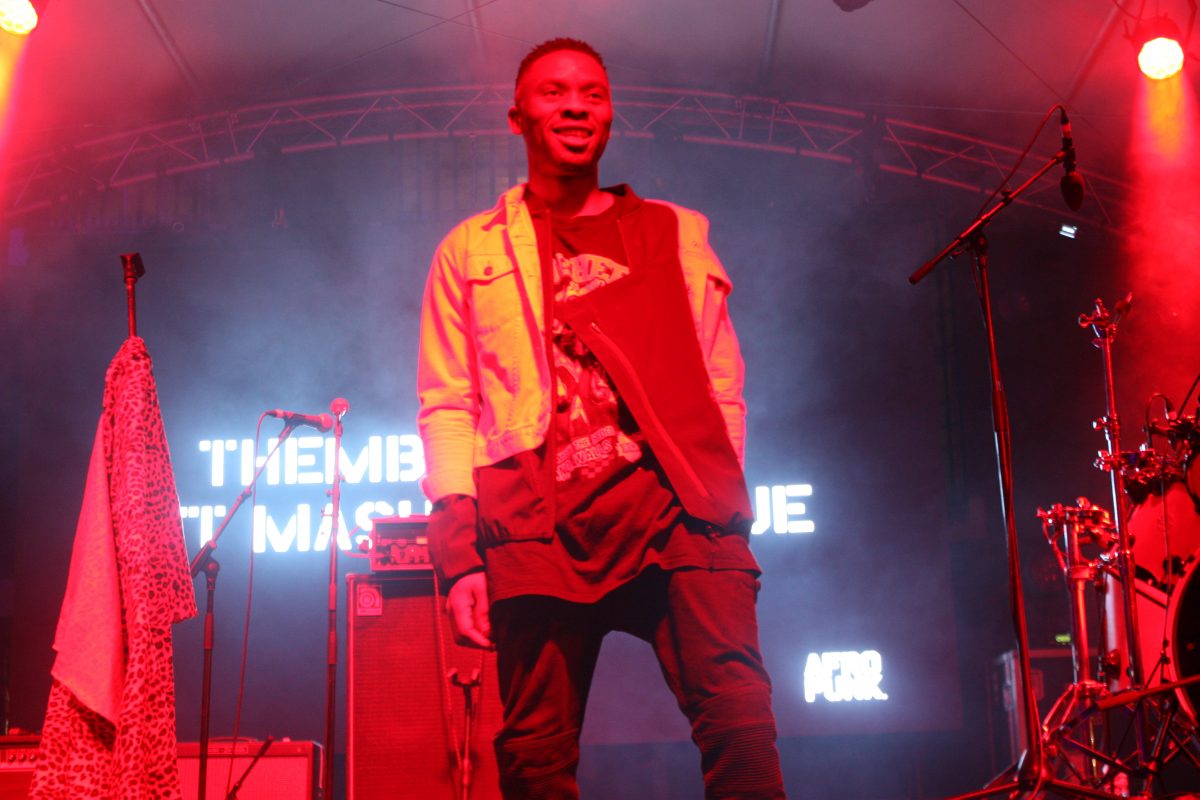 We came here and we were inspired, say Afropunk founders Matthew Morgan and Jocelyn Cooper of one of Johannesburg's premier historical sites, Constitution Hill.
In a first for Africa, they are preparing to bring one of Afropunk's multicultural music, art and food festivals to Constitution Hill in December. Afropunk launched its African adventure at Constitution Hill on 11 May. Attendees were entertained by Soweto skate punk band TCIYF, DJ Themba Lunacy, featuring electro-artist Mashayabhuqe KaMamba, band King Tha vs BLK JKS and Johannesburg-based DJ Doowap.
Afropunk is an online community celebrating black culture within an openness to multiculturalism, making it a perfect fit for a precinct that commemorates what a lack of constitutionalism did to South Africa, and which celebrates the Constitution that now secures South Africans' rights. The December festival will include bands, musicians and artists from South Africa, the United States, Europe and the rest of Africa.
"For us, in terms of what we stand for – constitutionalism, democracy, human rights – this festival is ideal," says Constitution Hill CEO Dawn Robertson. "It completely aligns with what we stand for as custodians of South Africa's constitutional history. You probably could not find a better link."
Afropunk chose South Africa because of "the Constitution, the possibilities, the beauty, the creativity", say Morgan and Cooper.
South Africa will soon be celebrating 21 years of its Constitution, and Afropunk will support Constitution Hill's campaign around the document that forms the backbone of South African society, says Robertson. "Our alliance with Afropunk will take that message to its 40-million followers."
"We did not know such an amazing place existed," says Morgan of the Constitution Hill precinct. "It became obvious to us that it was the place to hold the festival."
Morgan and Cooper say the idea of bringing Afropunk to Africa has been there since the idea's inception about 15 years ago. Afropunk already has a huge South African following – on Facebook – South Africans make up the fourth largest group of its followers.
The Afropunk festivals form a conduit into an online community and have been described by the The New York Times as "the most multicultural festival in the US". They feature music, art and food, offered in an atmosphere of welcome.
Afropunk is a celebration of black culture, and it is fascinating that Morgan and Cooper have managed to do this while creating a space that welcomes other races. "We certainly strive to be inclusive; we can't practise our mantra without it. You have to go out of your way to do that (be inclusive). Our greatest ability is to bring people together who don't normally come together."
The launch announced the first wave of the Johannesburg festival line-up, and it will be added to throughout the year. Morgan and Cooper are collaborating with South African artists and Johannesburg cultural experts Bubblegumclub. The Afropunk festivals all focus on art, music, food, young entrepreneurialism and activism as a way of bringing people together.
"We have no rules, and no fixed plan. We're not smarter than anyone else," says Morgan. "We're still forming how the festival will look. We are working with Dawn (Robertson) to create a space that doesn't yet exist."
A major Afropunk theme is "Do It Yourself", in art, music, food, entrepreneurship and activism, says Cooper. "Activism is central to Afropunk, which is why Constitution Hill is so paramount."
Constitution Hill, when it was the site of a complex of jails during South Africa's colonial and apartheid eras, saw many activists incarcerated – Mahatma Gandhi, Nelson Mandela, Winnie Madikizela-Mandela, Albertina Sisulu and Barbara Hogan among the more famous.
"I know where the stages are going to be," says Morgan, casting an insightful eye across the precinct. "We are going to want to utilise this space so that you feel you are moving through various elements, that you are not congregated in one place."
Afropunk is determined to spend at least five years in South Africa, and Morgan and Cooper say the South African festivals will change as they learn more about the country and what the South African Afropunk community wants and needs.
Afropunk grew from a documentary Morgan produced in 2003 featuring the US's black punks. Written and directed by James Spooner, the documentary sought to give a voice to a subculture. A music executive, Morgan recognised that the indie rock/punk/hardcore scene had a powerful appeal beyond its traditionally Caucasian audience.
In 2005 the first annual Afropunk festival was held at New York's Brooklyn Academy of Music and celebrated the cornerstones of Afropunk: music, film, skate, art, and the fiercely independent and influential individuals who are the lifeblood of the Afropunk community.
Since then festivals have been hosted in Atlanta, London and Paris. The online community is to be found at www.afropunk.co.za.
Morgan also says the Earned Ticket Programme for the festival will operate in South Africa. The programme allows aspirant festival-goers to earn tickets by paying with time instead of money – the time spent being through various approved community programmes.