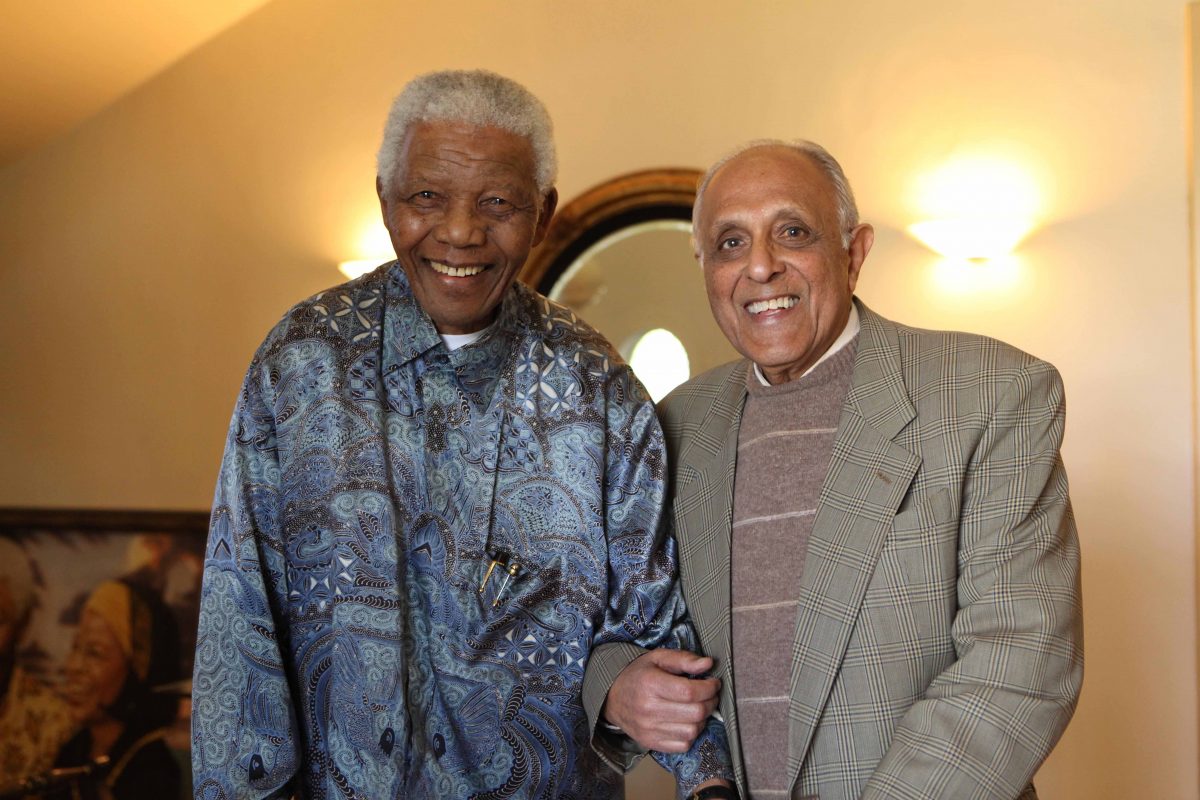 All his life, former ANC MP Ahmed Kathrada, who spent 26 years in prison for treason under the apartheid government, fought quietly, but courageously, for human rights. He died on 28 March, aged 87.
Ahmed Mohamed Kathrada died in hospital in Johannesburg after being admitted for surgery earlier in March. "Kathy" Kathrada leaves his life partner, former Public Enterprises Minister Barbara Hogan, whom he met after her release from prison in 1990.
In 1982, Hogan became the first white woman convicted of treason in South Africa, and Kathrada often remarked that their separate experiences of prison were what had brought them together. Hogan was jailed for a time in the Woman's Jail at Constitution Hill, and the harrowing story of her experiences forms part of the exhibitions at the jail, which is now a museum.
Long before Hogan was convicted of treason, Kathrada was jailed for the same crime in June 1964, at the end of the Rivonia Trial that outraged the liberal world, drew condemnation from the United Nations Security Council and saw sanctions imposed on South Africa by some countries. Sentenced to life, he spent 26 years and three months in prison, 18 of them on Robben Island.
The 1963 to 1964 trial was the second time Kathrada stood accused of treason, the first being the 1956 to 1961 Treason Trial, in which he was one of 156 accused. None were convicted.
Arrested again and again for his anti-apartheid activism, Kathrada's life changed when, in 1963, he broke banning orders to attend secret meetings at a fateful address: Liliesleaf Farm, Rivonia, Johannesburg.
On 11 July that year, Kathrada and many others were arrested at the farm, at the time the clandestine headquarters of the ANC's armed wing, Umkhonto weSizwe. The arrests dealt a terrible blow to the struggle against apartheid.
Of those arrested, Kathrada, Walter Sisulu, Govan Mbeki, Raymond Mhlaba, Denis Goldberg, Lionel "Rusty" Bernstein, James Kantor, Elias Motsoaledi and Andrew Mlangeni, were indicted. Mandela was at the time already in jail, for attempting to leave South Africa without a valid passport. Only Bernstein and Kantor were acquitted; the other eight were sentenced to life imprisonment with hard labour, for treason.
Racial equality was important to Kathrada, who only accepted the trousers he was issued with at the start of his Robben Island incarceration – his fellow Rivonia trialist prisoners were black and issued with shorts only – because Mandela had told him never to give up what he was given. In 2008, Kathrada and Deputy President Cyril Ramaphosa founded the Ahmed Kathrada Foundation with the aim of promoting non-racialism across the world, and archiving its history.
In 1990, Kathrada was elected to the ANC's National Executive Committee (NEC) at the party's first legal conference since its 1960 banning. He headed the organisation's public relations department until 1994.
In 1997, Kathrada stepped down from the ANC NEC. He had served on it since 1990. He was elected chairperson of the Robben Island Council, a position he held from 1997 to 2006. In June 1999 Kathrada received a presidential award, the Order of Meritorious Service (Class 1: Gold) from Mandela, who was then president.
Kathrada was born on 21 August 1929 in Schweizer-Reineke, in what is now North West. In 1948, the year Kathrada turned 19, the National Party gained power in South Africa and began enforcing racial segregation policies under a system it called apartheid.
But Kathrada's political career began before that. At 17, he was arrested for the first time after helping to organise, and participating in, a 1946 South African Indian Congress passive resistance campaign against laws that discriminated against Indians. At that time, the African ANC, which later became Kathrada's political home, did not allow Indian members.
Kathrada was one of those who organised the 1955 Congress of the People that gave the country its Freedom Charter, the South African Congress Alliance's statement of core principles. The alliance brought together the ANC, the South African Indian Congress, the South African Congress of Democrats and the Coloured People's Congress with the aim of promoting a multiracial anti-apartheid movement.
Kathrada, who had left school early to devote himself to political activism, used his time in prison to educate himself. He emerged with four degrees – two BAs and two BA Honours degrees (History and African Politics). He was also awarded the ANC's highest award, Isithwalandwe, during this time.
In the years after his formal political work ended, Kathrada published several books: Letters from Robben Island (1999), Memoirs (2004) and A Free Mind: Ahmed Kathrada's Notebook from Robben Island (2005).