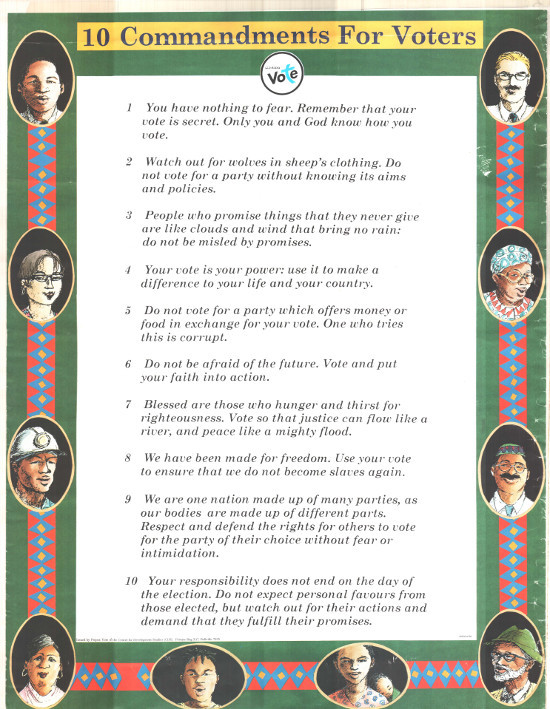 On the 27th of April 1994, I was a 15-year-old, standard 8 secondary school pupil (which is grade 10 for the millennials among us) and became an observer to the historic moment that heralded the first democratic elections in South Africa. Before the elections, my family and I visited relatives in a small Karoo town called Touwsriver during the Easter break, and the usually sleepy town save for the excitement that the train between Cape Town and Johannesburg brought to town, had become a hive of political rallies and campaigns.
As we drove into town, we were greeted by various political party posters hanging from the lamp posts which only purpose until then was to be adorned by scant Christmas decorations in December. (I always wondered about snowflakes and Santa Clause in the middle of the Karoo, anyway I am digressing.) Swept up by the palpable excitement, I followed my older cousins to town meetings over the course of the Easter break, where I would usually have to stay at the entrance anyway but as I wanted to be part of the moment, it did not matter that I was not allowed inside these sometimes (by the sound of it) contentious meetings. As my aunt was at the centre of much of the political activity taking place in this small town, it was difficult not be mesmerized or to get away from this pre-eminent moment that the country was moving towards.
When the four-day voting period finally arrived from 26-29 April 1994, and as tens of thousands of people queued in long snaking lines in order to cast their vote, I watched how Nelson Mandela and others casted their votes, and could not help but feel a sense of envy and euphoria. The years following this historic moment, was a period of almost euphoric headiness as the country and its people was catapulted into unchartered territory. Many gains were made in respect of a progressive constitution, an aspirational view on democracy and some material benefits for the larger public.
It has been 26 years since the first democratic elections, which we commemorate each year on 27 April as a way to mark the liberation of South Africa and its people from oppression and discrimination brought about by colonialism and apartheid, however reality has set in with the sobering cognizance that there are limits to the South African 'miracle' and its liberation. Burdened with the legacies brought about by the oppressive, discriminatory and often violent acts of colonialism, apartheid and resistance, the effects of these legacies continue to reverberate in post-apartheid South Africa with an increasing socio-economic divide driven by a cocktail of nationalism, race and class polarisation, and the resultant often violent forms of protest action with a return to a focus on basic human rights such as land, housing, employment, education and health care which still seem to be as unattainable as ever in some of the most vulnerable and destitute communities and structured along race and class fault lines. More than this, it is not enough to only enjoy material freedoms if and when it is finally attainable for all, what is essential as Bob Marley lamented in Redemption Song is to also,
"Emancipate yourself from mental slavery. None but our self can free our minds"
– Geraldine Frieslaar (Ph.D), SAHA Director