The Office of the United Nations High Commissioner for Human Rights (OHCHR) is tasked with promoting and encouraging respect for human rights for all without distinction as to race, sex, language, or religion, as stipulated in the United Nations's 1945 Charter, the intergovernmental organisation's the foundational treaty.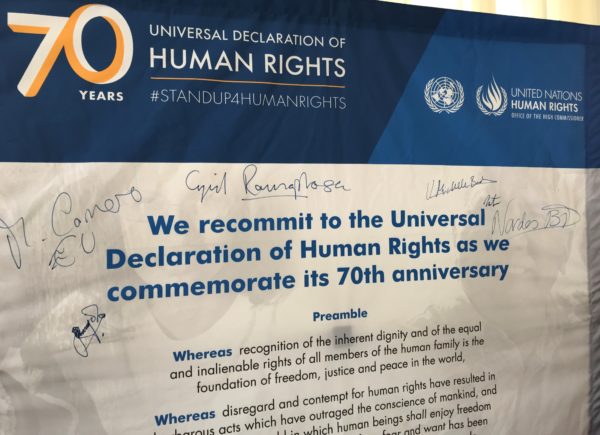 The universal promotion and protection of human rights has been one of the fundamental goals of the organisation since its creation in 1945, and the OHCHR is also tasked with integrating human rights into all United Nations programmes. The OHCHR's Regional Office for Southern Africa covers 14 countries in the region: Angola, Botswana, Comoros, eSwatini, Lesotho, Madagascar, Malawi, Mauritius, Mozambique, Namibia, Seychelles, South Africa, Zambia and Zimbabwe. The Office speaks out objectively in the face of human rights violations worldwide, provides a forum for identifying, highlighting and developing responses to today's human rights challenges, and acts as the principal focal point of human rights research, education, public information, and advocacy activities in the United Nations system.
Our method of work focuses on three major dimensions: standard-setting, monitoring, and implementation on the ground. We work to offer the best expertise, and substantive and secretariat support to the different United Nations human rights bodies as they discharge their standard-setting and monitoring duties. We also support the work of special procedures – including special rapporteurs, independent experts, and working groups – appointed by the UN Human Rights Council to monitor human rights in different countries or in relation to specific issues. We assist these independent experts as they carry out visits to the field, receive and consider direct complaints from victims of human rights violations, and appeal to governments on behalf of victims. Since Governments have the primary responsibility to protect human rights, the High Commissioner for Human Rights generally provides assistance to Governments, such as expertise and technical trainings in the areas of administration of justice, legislative reform, and electoral process, to help implement international human rights standards on the ground.
We work to ensure the implementation of international human rights standards on the ground through technical assistance to governments, national human rights institutions and civil society organizations.
OHCHR stands for human rights for all!
#standup4humanrights
Abigail Noko is the head of the Regional Office of the Office of the United Nations High Commissioner for Human Rights